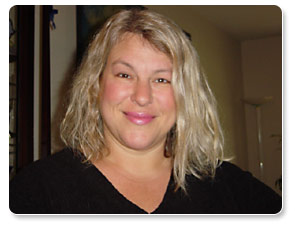 "I have a deep desire to use my broad-based education as well as a special intuitive healing sense to assist others in making positive changes in their life and achieving peak health and well-being through healthy, caring touch."
Shari Aizenman has been a practitioner of hydrotherapy and massage for over 34 years. She began studying her craft at the Florida School of Massage and Florida Institute of Natural Health, where she focused on sports massage, deep tissue massage, positional release and polarity therapy. In 1987, after completing her studies, she returned to her hometown of Birmingham, Alabama to begin her own practice as a massage therapist and to teach massage classes at The University of Alabama at Birmingham and the Alabama School of Massage. Prior to moving to Atlanta, Georgia, Shari spent a year working closely with a Chiropractor and clinical kinesiologist and was certified in Neuromuscular Therapy with Paul St.John. Also certified as an Infant Massage Instructor, Shari has assisted in hundreds of births in homes, birth centers and in hospitals, providing massage during labor and delivery.. Her further studies of Hot Stone Massage, Positional Release, Strain-Counterstrain Technique of Stretching, Reflexology, Polarity Therapy and Sports Massage have expanded her repertoire and complemented her practice. She now focuses her touch techniques doing Craniosacral Therapy Technique on newborns and infants up to six months old, as well as doing Watsu.
In Atlanta, Shari continued her teaching career at The Academy of Somatic Healing Arts and The New Life Institute of Massage Excellence. While studying with Dub Leigh, D.Z. for six years, she was certified in the techniques and healing power of Structural Integration in his Zentherapy/Bodytherapy. Furthuring her studies into the body-mind connection, she became certified as an Alchemical Hypnotherapist and studied WaveWork, a psychospiritual process for integration. Shari has been studying Watsu® since 2005 with Minakshi in the Florida Keys and feels very natural in the transition from land to water.
Having studied many techniques of the healing arts, Shari provides an intuitive combination of bodywork styles in her private practice based in Atlanta, Georgia. She is continues to be devoted to ongoing, longtime clients in Birmingham, Alabama whom she has treated since beginning her practice in 1988.
In addition to her extensive training and throughout her professional experience, Shari has honed her innate intuitive ability to assess one's body's needs through the power of touch. She creates a nurturing and safe environment where she engages with her clients physically, emotionally and spiritually to facilitate healing.

From Shari: "As a touch therapist in a touch-deprived society, I am dedicated to offering the most caring, honest and ethical touch therapies possible, being mindful to assess the particular circumstances of your physical, mental, emotional and spiritual health. With an emphasis on physical and emotional nutrition and lifestyle adjustments, in my practice I take into account your physical, emotional and spiritual life, as well as your health history, employment and social situation to combine the holistic modalities that best serve your needs. I have traveled to many countries and had a wide variety of holistic therapeutic treatments. From the healing baths in Hungary and Germany to the saunas in Sweden and Finland, to the healing clear waters surrounding Jamaica, I have touched and been touched. I have received massage, acupuncture and a variety of esoteric healing arts in my journeys, seeking knowledge and a deeper understanding of the unique human experience wherever I go. "
Shari is married and has one wonderful son. She also enjoys cooking, which she teaches at a local high school, and catering. Shari makes stained glass windows when her hands need something else to do and continues to love to travel where she never misses an opportunity to add to her repertoire of healing and life experience.